16 Mar

ADDING AN ELECTRIC LINE PAINTER TO YOUR PARKING LOT LINE STRIPING BUSINESS

In Canada the cost of goods are skyrocketing!!! Asphalt Maintenance Contractors need to find ways to reduce costs and increase their bottom line. The same way that retail consumers are making the switch to Electric Vehicles, Parking Lot Line Striping Businesses are seeing the increased value of Electric Line Painters.

The main benefits of switching to, or adding Electric Line Painters to your business are:

Safety

You may not always think of safety when comparing an Electric Line Striper to a Gas Powered unit. There have been times where contractors have become seriously injured, or died while using Gas Powered Line Painting Equipment in parking garages and warehouses. The lack of ventilation causes a serious risk of Caron Monoxide Poisoning.

Noise

Electric Line Marking units make virtually no noise, while Gas Powered Line Painting Machines can be heard from blocks away. Having a quieter Line Painter not only makes operation a much more pleasant experience, but also minimizes the noise on your jobsites.

Cost Savings

Gas and Diesel costs across the world are at an all time high, and there doesn't seem to be an end in sight. While the initial cost of an Electric Line Painter is usually more than a Gas-Powered Line Painting Machine, never needing to purchase fuel for your Line Painter will save you thousands in the long run.

Increased Job Options

Contractors who only operate Gas Powered Line Painting Machines will not be able to take on Line Painting Jobs in warehouses and parking garages. Electric Line Painters can be operated on any jobsite, while the use of a Gasoline Engine can be limited.

Graco is currently the leading manufacturer when it comes to Electric Parking Lot Line Painters in Canada. They manufacture a wide range of Electric Line Stripers for Parking Lot Contractors of all sizes, some of their models include:
Graco FieldLazer ES100 25U542
Graco LineLazer ES 500 25U546
Graco LineLazer ES 1000 25U674 / 25U676
Graco LineLazer V ES 2000 25U678 / 25U679 / 25U680 / 25U683 / 25U684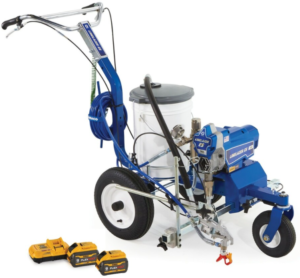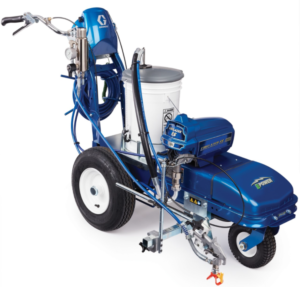 As Graco's largest stocking dealer in Canada, Pavement Depot has Electric Line Painting Machines in stock, ready to pick up or have shipped to your door.
 Connect with an Asphalt Equipment expert today and let us help you Maximize your business
Pavement Depot
1-866-595-2308
Adam Kroetsch
Pavement Depot